"Summer Flair" continues to grow to be a huge event with alot of other events coinciding with it as well. First off the "Mixology Matters! Cocktail Conference" during the day of the Summer Flair 6 finals on Tuesday September 20th is "Helping bring the craft of the cocktail and the art of Flair bartending together". Bringing Mixologists, Brands and Flair Bartenders all under one roof for some drinks and an exchange of ideas. Complete with Seminars, Samplings, Contests and more.
The official Pisco Porton & Marie Brizard Kick-Off Party will be Sunday September 18th after the Summer Flair 6 Meet & Greet inside "Club Safari" the host venue for our event. Complete with signature Cocktails, Interactive events, Mixology Contest & more!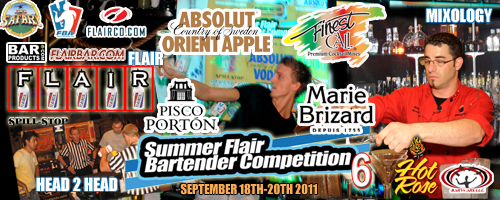 Doors open to the Public at 1pm on Tuesday September 20th for the "Mixology Matters" Cocktail Conference and the Summer Flair 6 Pre-Party with FREE DRINKS at 6pm in the "Mixology Matters" Main Hall located inside the Palm Beach Gardens Marriott.

"Summer Flair Bartender Competition 6" & "Mixology Matters" on September 18th - 20th 2011.

Flairbar.com will be there with complete coverage of the event. All Competitors need to be at Club Safari no later then 6:00 pm on Sunday September 18th 2011 (unless made prior arrangements with Mike Mclean or Rob Husted). All Details are on BarWars.info. For registration questions contact Rob Husted at: rob@barwars.info. All other questions please refer to the FBA Message Board or Mike Mclean at mike@flairco.com.
Registration is $250.00 for the FBA Amateur Division, $300.00 for FBA Advanced Division and $350.00 for the FBA Pro Division. Registration includes 3 night stay dual occupancy at the SFBC6 Host Hotel Marriott in Palm Beach Gardens, Florida! There will be a $35.00 fee excessed for non FBA Premium members.
This contest is brought to you by Absolut Vodka, Finest Call, Pisco Porton, Hot Rose, Marie Brizard, Club Safari, Marriott Hotels, Bar Products, Spill-Stop, Flairco, Rock & Record, Off the Hookah, USBG, FBA, BarWars L.L.C. and Flairbar.com.