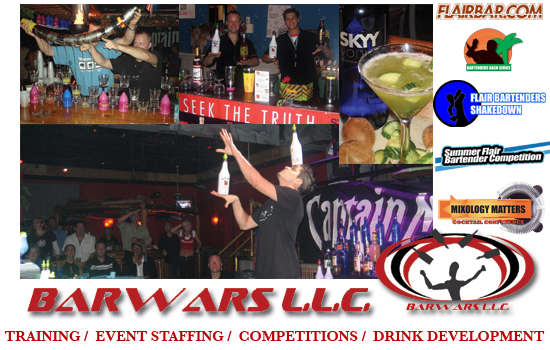 Welcome to the BarWars L.L.C. Homepage!
BarWars L.L.C. is a Flair Bartending based company with the passion to better the world of Bartending and Entertainment. Our goal is to provide an outstanding and much needed service to the Hospitality and Entertainment industry by providing quality Bartenders showcasing the many talents we have to offer. Professional Bartenders are no longer just monkeys in a suit pouring drinks, but rather highly skilled Mixologists that Entertain, Educate and Motivate people's lives.
Our company showcases the best Flair Bartenders world wide, from Flair Bartending Competitions to Event Staffing. We cover all aspects of our Industry. Need a good drink or recipe for your product? Drink Development is a great compliment to "mix" into your program. Still want a little more sizzle to dazzle your guests and clients? Our Event Staffing will staff your next event with some of the best Flair Bartenders in the world that can add that extra excitement and sparkle you've been looking for? How about bringing that much needed energy and Flair to your bar or establishment? Our Advanced Bartender Training teams implement a wide variety of courses ranging from proper "free pouring" to working and exhibition Flair classes. If your looking for basic bartending... Don't waste our time. This is for the Bartenders that want more out of their jobs. The Bartenders that want to evolve and better themselves, their knowledge and service.
To learn more about our services and opportunities you can contact us at: contact@barwars.info.