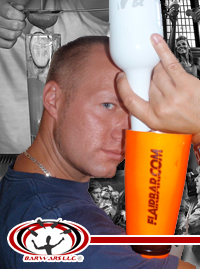 ROB HUSTED
CEO BarWars L.L.C.
Every year I organize many BarWars LLC events incorporating many aspects of bartending, all are successful Bartending competitions and events in Florida where I live. I am also the CEO of Flairbar.com, the United States Bartender's Guild Palm Beach Chapter President and the FBA Rep for the Southeastern United States.

Through all the Flair & Mixology competitions I've competed in and judged I learned a lot, and with that knowledge I try to pass it on to the next generation of bartenders. Our BarWars LLC events focus on different aspects of our sport and the culmination of everything a complete Flair Bartending competition should be. Accuraccy, Speed, Showmanship, Mixology and of course Flair! Thank you to everybody who helped us along the way.

BarWars LLC is something I'm proud of and stand 100% behind!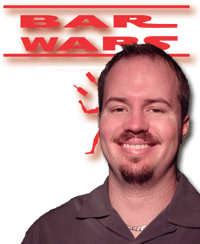 John Buckley
Public Relations Director BarWars L.L.C.
I have been in the bar and club business for more than 10 years. Working everything from barback to manager from West Palm Beach to Orlando.
I was introduced to Flair by Paul Lehey. I have sense been to numerous competitions around the country seeing both the good and bad in them. I am a part owner in Lucid Vision. A company that does consulting work for restaurants, night clubs, bars and hotels. As well as providing a spotter and secret shopping service.
Of all the competitions I have been to I have always enjoyed BarWars the most and feel it is the premiere Competition in South Florida. This being said I am very happy to be a part of helping it grow.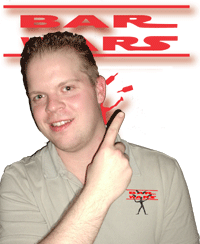 Travis Tober
West Coast Promotions BarWars L.L.C.
I've been in the biz since '96 and behind the bar since '97. My first Bar gig was at the Roadhouse Grill in Buffalo NY. I was a Bar trainer at Kahunaville (Buffalo N Y) and TGI Fridays Buffalo and WPB. I first started Flaring in '98. I did my first comp in Canada in the Flairco on the Road summer tour. The People I most look up to in the sport of Flair are Dean Serneels, Jim "flipper" Barnett and Rob Ford.

Comps I've been in include Flairco on the Road summer tours, Canadian Niteclub trade expo, TGI Fridays Shake Rattle and Pour, Skyy Quest qualifer, Battle of the Bartenders (Orlando), Barwars I & II and Bartenders in Paradise.

One of my biggest acomplishments is helping co-create BarWars with Rob and seeing how huge it has gotten.

I am currently working at Hard Rock Cafe Las Vegas with former team WPB member and one of the best all around Bartenders Eric Pautz.

Contributors:

Travis Tober, Bob Husted (My Dad), Jennifer Husted, Frank , The Boyton Grill, Tim Black, Steve Doherty, Andy Jezowski, The Blue Boar, Byron Gardiner, Blue Martini West Palm Beach, Benny Townsend, Benny's Icehouse, Dean Serneels, Mike McClain, Flairco, Scott Young, Craig Lombardo, Showtenders, Bill Long, A.J. Gruening, Brian Loukmas, Adobe Gilas Orlando, Ben Rose, LatinBar.net, John Buckley, Jay Cole, Flairdevils, Jordan Mednick, Mark Hastings, Bar Gods, Garret Hagen, Jester Smith, Eny Alfonso, Luis "Iceman"Herrra, Rob "Tin Man" Ford, Levi Donaldson, Danny Rossi, Adriano Marcellino, Jennifer Durant, Rick Barcode, Jim Allison, and the FBA.
BarWars L.L.C. 911 Springdale Circle, Palm Springs, FL 33461, USA. Views expressed in BarWars.info are not necessarily the views and opinions of BarWars LLC. BarWars.info is produced to provide vital information and views for the BarWars Flair Bartending competition. All logos and trademarks of BarWars.info and BarWars are copyright. © 2000, © 2001, © 2002, © 2003, © 2004, © 2005, © 2006, © 2007, © 2008, © 2009, © 2010, © 2011, © 2012, © 2013, © 2014, © 2015 BarWars LLC.